The first ever Digi-Train is accepting designers for it's September 15th departure date. September 19th is
Talk Like a Pirate Day
(Arrr!) and so our theme for September is
Treasure Isle
!
The pallet with is below: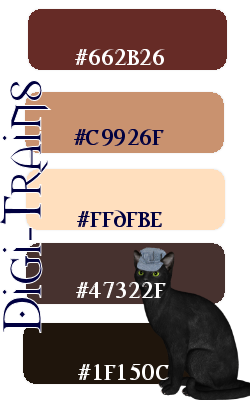 If you can't see the image, the color are #662B26, #C9926F, #ffdfbe, #447322f, abd #1f150c.
To sign up as a
designer
, please send an e-mail with you designer name, blog address and blinkie to
digicats1@gmail.com
.
Then
join our updates
group,
snag a blinkie
for your blog and start creating!
If you are a
rider
, please
follow our blog
for the latest updates on the train.
Specifics for this train:
* This is an anything goes train, full size or tagger size kits, Personal Use or Commercial Use, as much or as little as you want.
** Previews are due by September 13, 2010. Train leaves the station on at Midnight GMT on September 15, 2010
*** You need to offer your portion on the train on your blog for free through the end of October, after that, you may do whatever you like with it.
**** Previews must have what size they are stated on them.
*** No early kick offs please. Please schedule your post.
** T.O.U. needs to be included in your download.
Blog trains are a great way to advertise your products, get name recognition and most of all have fun! So join the first ever Digi-Train today!